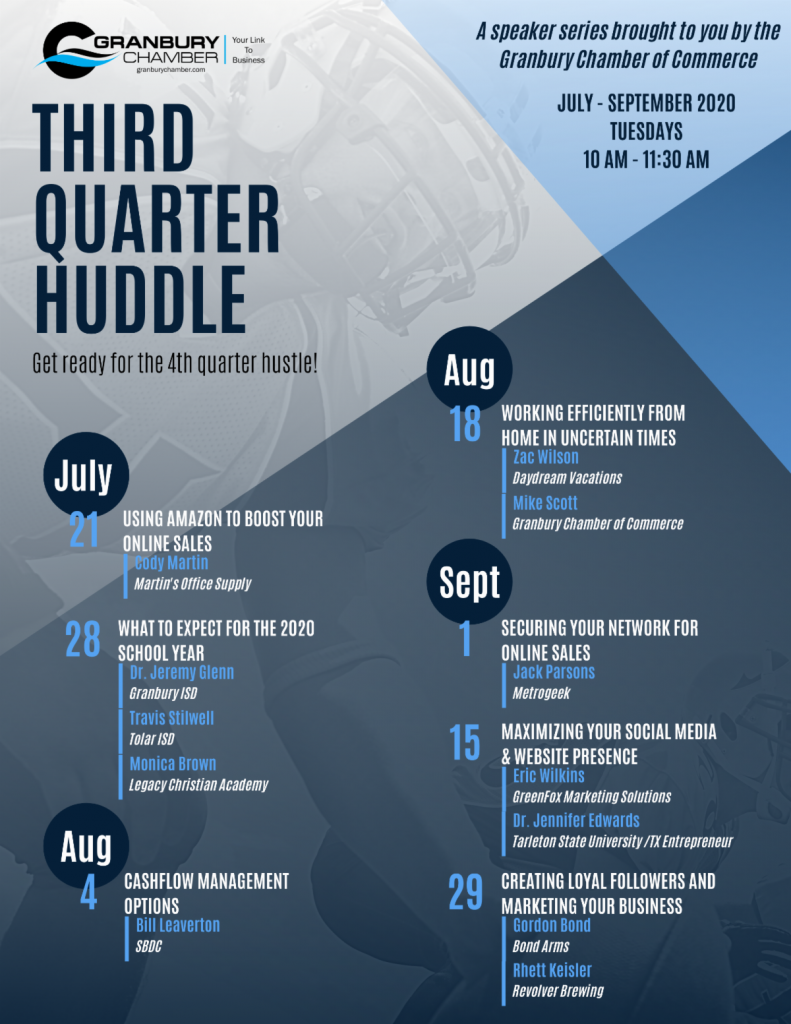 Gather around (virtually) it's time for the 3rd Quarter Huddle"!
It's hard to believe that 4th Quarter, 2020, is right around the corner - and undoubtedly this year will be different than ever before.
Join the Granbury Chamber of Commerce as we roll-out a 7-part series on how to best prepare YOUR business for a stronger year-end. Each session features local business experts who speak from experience. Through moderated Q&A format, you'll have the opportunity to submit your questions for each session you attend.
DATES AND TIME
Tuesday, July 21, 2020 - "Using Amazon to Boost Your Online Sales" A conversation with Cody Martin, owner of Martin's Office Supply, on how they leveraged the Amazon platform to grow their sales exponentially!
Tuesday, July 28, 2020 - "What to Expect for the 2020 School Year" A conversation with Dr. Jeremy Glenn, Superintendent for Granbury ISD, Travis Stilwell, Superintendent for Tolar ISD and Monica Brown, Principal of Legacy Christian Academy to address the unique 2020 school year plans.
Tuesday, August 4, 2020 - "Cashflow Management Options" A conversation with Bill Leaverton, Director for the SBDC at Tarleton State University and Ronnie Hansen, President & CEO for PlainsCapital Bank, around cash management options through the SBA and retail banking lenders.
Tuesday, August 18, 2020 - "Working Efficiently from Home in Uncertain Times" A conversation with Zac Wilson, owner of Daydream Vacations, and Chamber President/CEO Mike Scott, about working efficiently from home, creating healthy work/life boundaries and providing stellar customer service remotely.
Tuesday, September 1, 2020 - "Securing Your Network for Online Sales" A conversation with Jack Parsons, owner of Metrogeek, about making sure your system is protected for e-commerce and remote working.
Tuesday, September 15, 2020 - "Maximizing Your Social Media & Website Presence" A conversation with GreenFox Marketing Solutions owner, Eric Wilkins and Dr. Jennifer Edwards, Professor at Tarleton State University and TX Entrepreneur, about engaging consumers through social media and creating a website that delivers in call-to-action & increased customers.
Tuesday, September 29, 2020 - "Creating Loyal Followers and Marketing Your Business" A conversation with Gordon Bond, owner of Bond Arms, and Rhett Keisler, owner of Revolver Brewing, about creating outrageously loyal customers through strategic marketing.
10:00 AM - 11:30 AM CDT
LOCATION
This event will be held online on Zoom. Please make sure you enter a valid email for EACH PARTICIPANT so that you receive the Zoom Meeting ID and Password.
FEES/ADMISSION
$10.00 Member per session / $60 Member for
entire 7-session series
$15.00 Non-Member / $90 Non-Member for entire 7-session series